Continuing to catch up: There are a multiplicity of Lenten practices one could adopt, but this season I wanted simple,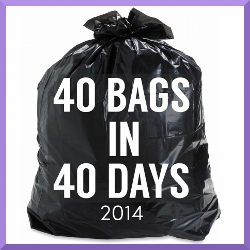 so I've been trying
40 Bags in 40 Days
, an idea that's been in the wind. I heard about it from a friend, then found
Ann Marie's blog
. I think she and others are on to something spiritually vital, even if some expressions at times devolve into busy fondness for things like charts and stickers and ::cough:: blog buttons. The aim is to reduce clutter, including negative attachments. From the outside it may look a lot like housecleaning, and that's actually not a bad description of the interior process. After all, the divide between mind, body, and spirit is largely arbitrary, and there's nothing wrong or bad about tending to all three at once.
Amid those deep thoughts I crocheted an
Artfully Simple Infinity Scarf
by Tamara Kelly in Noro Sarubia, a beautiful rustic 50/50 silk and mohair yarn. It's a quick and easy project, the work of a weekend if one keeps at it. I just crocheted until I ran out of yarn, ending up with a somewhat narrower infinity scarf than specified in the pattern, but that suits me.
Of course the Noro had knots, which I ignored. I know, that's
completely out of character
. I've had the yarn in stash for ages and figured it was FO or go time. I'm glad it's an FO.
I've been wearing the infinity scarf doubled up as a cowl. The lustrous fibers give the half-mourning colors and exaggerated texture just the right touch of refinement, and it's warmer and much softer than it looks. I'd consider making more in the wider width, but I don't need more for myself and it does seem to be the sort of statement piece that may not be suitable for gifting. No matter, I love mine and have been enjoying it immensely.